Make a difference in your community and in Utah.
Volunteer, Lead, Organize, and Contribute in NCJW Utah Section
"Daughters of Miriam" Bios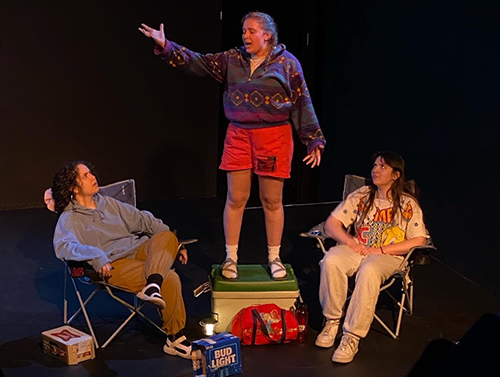 Daughters of Miriam by Molly Levine
Directed by Haley Self
Starring:
Molly Levine as JESSA
Chloe Friedman as SAM
Julia Thau as ANNIE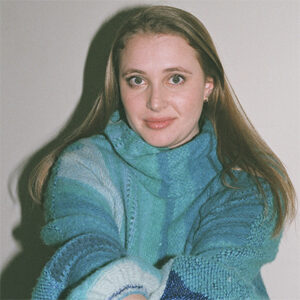 Molly Levine (bio and Playwright's note) (she/her) is a New York City based comedian, actor, writer, and performance artist. Molly recently graduated from Marymount Manhattan College with a BFA in both Acting and Playwriting. When Molly began studying acting and playwriting in NYC, she was encouraged to use her unique and true voice to tell her story. However, she just didn't think anyone would get it! Because Molly felt that not only was she Jewish, but she was a Salt Lake City mountain Jewish girl, that though it is a specific identity to only a few, the strength and uniqueness of it consumed her. And if you wanted to know Molly, then you had to meet the tight knit group of Jewish friends she had at West High School in downtown Salt Lake City in the late 2010s, so she wrote the one act play Daughters of Miriam.
Daughters of Miriam was first developed and performed at Marymount Manhattan College. It began as her senior playwriting project, but while it was being produced, Molly submitted it to The Chain, an off Broadway theater, for their One Act Festival in February of 2022. Daughters of Miriam ended up being selected as one of only 25 plays by The Chain, with Molly (the youngest of 25 playwrights) and her team taking home the festival's Audience Choice Award.
Molly feels extremely emotional bringing this play to the JCC, which she certainly considers one of the most important places and communities of her upbringing. Even at 22, when people ask her what her happy place is, she would still say the Salt Lake City JCC pool in the middle of a sweltering summer with her friends. To be performing this for the NCJW as well is an honor to Molly and seems perfectly fitting, as most of Molly's plays, even aside from Daughters of Miriam, spawns from, is in celebration of, or is in conversation with Jewish women. For example, during Molly's junior year of college, she developed and performed a one woman show entitled Love, Loss, and Who I Swore At, a not-so-subtle reference to Nora and her sister Delia Ephron's play Love, Loss, and What I Wore, as Molly feverently studies and admires Jewish feminist writers like Nora Ephron and Wendy Wasserstein.
Outside of this, Molly has dreams and goals of changing American theater, particularly fueled by a rejection of the classics and a yearning to push real and new voices to the front, with the help of Haley Self, Molly's "artistic wife" and collaborator. Molly could not be happier with or more grateful for this experience of working on Daughters of Miriam, as the entire cast and crew are some of her best friends in the entire world, which is her entire ethos as an artist – making art with/by/& for her friends. Molly would like to thank everyone for their love and support, with a special shout out to Kenny Finkle, her playwriting professor and mentor. Molly dedicates this show to her best friend and muse, her mother, who's Hebrew name is Miriam (which she only found out after the fact of writing the play). To her sweet father who she loves so much, who was raised (and frequently interrupted, poor guy can barely get in a word edgewise!) by strong Jewish women and went on to raise his own. To the real "Jew Crew" of SLC along with its goyim followers who surely make up a lot of this as well. And a special thanks to her other half, Sam Walker. And finally, this play is truly dedicated to the long tradition of misbehaved, spirited Jewish women – may we all continue to dance the whole night long. Find out what it's all about at themollylevine.com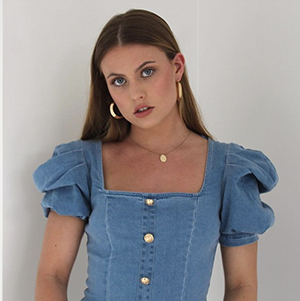 Haley Self (she/her) is a New York City based multimedia artist interested in telling stories with her friends. Originally from Rogers, Arkansas, Haley knows a thing or two about growing up around conservative opposition that might make you want to get a little rebellious. Haley and Molly are amidst a life long collaboration to make theatre cool again. Together they have co-directed The Vagina Monologues at Marymount Manhattan College and Molly's one woman show Love, Loss, and Who I Swore At. Now that she has graduated college, she is excited to work on projects that reflect, interrogate, and create the culture of today. She is deeply grateful for the cast and creative team for inspiring her every move, and gives extra love to Ethan, Brady, Cassie, and Bryan for helping her spread her wings.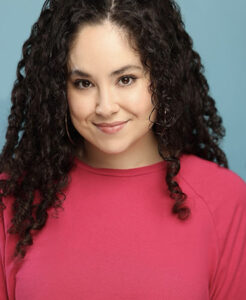 Chloe Friedman (she/her) is excited to be returning to the story of Daughters Of Miriam. Originally from Maryland, Chloe is a recent graduate of Marymount Manhattan College with a BFA in Musical Theatre. She has recently been in Musical of Musicals The Musical, Daughters Of Miriam, and The Theory of Relativity. Chloe would like to thank the entire creative team, her fellow actors, and her friends and family for their support!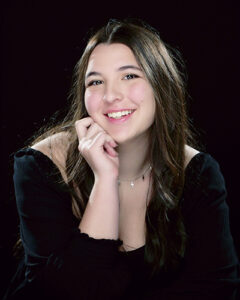 Julia Thau (she/her) is a current sophomore BFA Musical Theatre student at Marymount Manhattan College, originally from Southern California. She is so thrilled to be a part of this amazing piece and opportunity! Julia would like to give a big thank you to the entire cast, creative team, her family and friends for always being the best!
Special thanks to Fin Gagnon for originating the role of Jessa and illustrating all show art, Karina Singh for original assistant directing, and Mary Barbaria for all tech done in development of this play.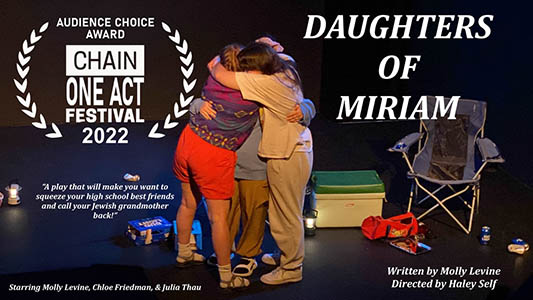 Daughters of Miriam
$18 per person
Tickets are not included for NCJW Life members or in the dues for our Annual members.
Sunday, November 6
3 pm - 5 pm
I.J. and Jeanne Wagner Jewish Community Center
2 North Medical Drive, Salt Lake City
We appreciate your ticket purchase to help present this production and support our section's efforts this year.
NOTE:  Please bring ID to enter the JCC if you are not a member of JCC.