The National Council of Jewish Women (NCJW) is a grassroots organization of volunteers and advocates who turn progressive ideals into action.
NCJW Utah is proud to once again sponsor the United Jewish Federation of Utah's annual Pride Seder
Join LGBTQ+ Jews along with our families and friends. Enjoy a meaningful and inclusive Passover experience with songs, text, and history as related to the lesbian, gay, bisexual,
transgender, and queer community. Fun for all ages! Allies welcome!
Registration will close on April 3rd. Reserve your spot ASAP!
Register here: https://shalomutah.ticketspice.com/pride-seder-2023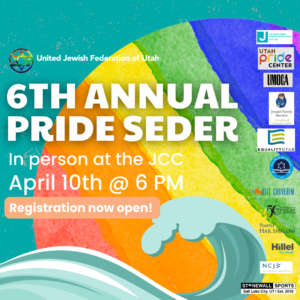 Read our lastest eNewsletter and find past ones, click HERE .
Inspired by Jewish values, NCJW strives for social justice by improving the quality of life for women, children, and families and by safeguarding individual rights and freedoms.
Make a difference in your community and Utah by. . .
Volunteering, Leading, Organizing, and Contributing in NCJW Utah Section
Please let us know what kind of events you are interested in!
In what events and programs do you want to make a difference? Or fundraise for?
What local action opportunities are you passionate about?
NCJW Utah has participated in a Jewish Lobbying Day at the State Capitol and with CAP (Community Action Partnership) in its Democracy Day on the Hill.
Power your voice. Become an NCJW Advocate today
NCJW Advocates have a long history of turning our progressive values into action—we've been at it for over 125 years, and we're needed now more than ever!
Programs and Events currently in the planning stages for 2023-2024
Interested in helping in one of these ? Please contact us soon >
Our Chapter Needs Your Help!
Join our Fall Membership Event Committee Reach out to Missy Dawson, Membership Chair, at [email protected]
Plan a community service project. Reach out to Annabel Sheinberg at [email protected] with ideas and interest!
Join our Board! Would you like to help lead the efforts of our NCJW Utah Chapter? Reach out to us at [email protected] 
Latest News from our NCJW National Organization
Click on a headline to read its full article on ncjw.org website - opens in a new browser tab.
Loading...
Read more about the advocacy efforts of the National Council of Jewish Women in these work areas – opens in a new browser tab