Support SSTO this 2023 Holiday Season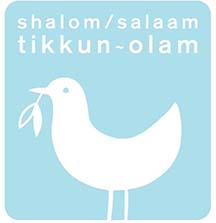 Tzedakah
(Justice, Decency, Ethical Obligation)
"Tzedek, tzedek you shall pursue," the Torah instructs (Deuteronomy 16:20)
Spearheaded by The National Council of Jewish Women (NCJW), members and friends of Utah's Jewish, Muslim, and Christian communities have helped others less fortunate in our community during the Christmas/winter holidays. Last year's SSTO program was a great success and taught us an important lesson: the necessities of many are not static. In certain areas of the population—among refugee, immigrant, and low-income students and homebound senior citizens—the numbers and needs are rising. In our 31 + year of serving, SSTO is jumping into action!  And we need your help. In the spirit of tzedakah, with your aid of donations of goods and funds, together we will make a positive impact on our community and accomplish much!
We would love to have your help with the following volunteer opportunities:
Set up "Gift Shop" or shop with students at West High School
Pack Gift bags or deliver gift bags for the Elders project
Buy NEW items to donate for "Gift Shop" or Elders project
Make a cash donation online or by check
West High School "gift shop" volunteer opportunities
Contact either Carla Cantor,  [email protected] or Sue Corth, [email protected] to sign up for one or more of the following activities, including buying new items to donate.
Set up Gift Shop on December 14 from 10-12:00 or 1-2:00
Set Up Gift Shop on December 15 from 10-12:00 or 1-2:00
Shop w Students on December 18 from  9-11:30 or 11:30-2:00
Shop w Students on December 19 from  9-11:30 or 11:30-2:00
Deliver Gift Packages to homes on December 20 at 2:00 to begin loading cars
Please note, two people are needed for each shift and 25-30 cars to help deliver gifts the students picked out.
NEW Items to donate for "Gift Shop"
We need to receive all donations by December 12th
games/puzzles/crayons/colored pencils/kids books/
winter wear/kids clothes/hoodies
diapers/blankets/
backpacks
nail polish/lotions/candles/jewelry
sanitary pads (not tampax)/hygiene kits and products
dish soap/laundry soap
Pack or Deliver Gift packages for Elders
Contact either Laura Polacheck, lpolacheck99@gmail.com or Carla Cantor, [email protected]
Pack Gift bags on December 12th from 10-12:00
Deliver Gifts     December 13th from 10-12:00
NEW Items to donate for homebound elders in need in our community
We need to receive all donations by December 11th
lap blankets
winter hats
scarves
gloves
dish towels
socks
Where to drop-off all NEW Items
When you buy local or from online sites, please label the items as SSTO and drop them off in the donation box at the JCC, 2 Medical Drive North in Salt Lake City. OR contact one of our volunteer leaders:
Make a Cash Donation online or by check
Click here to make a cash donation through NCJW's SSTO website
Mail a check made out to NCJW Utah (with SSTO in the memo line) to: 
NCJW Utah Treasurer Diane Warsoff
1433 S Ambassador Way, SLC, 84108
More information will be forthcoming in the days and weeks ahead. With a heartfelt thank you for your help this year, please know that your donation will make a difference close to home.
Helping West High School (WHS) Students
(241 West 300 South, SLC, Utah)
Serving at-risk populations and families, NCJW SSTO reinforces education and a sense of normalcy by encouraging culturally diverse refugee, immigrant, and other low-income students to stay in school to help ensure a better future for themselves and their families.  Among the many challenges of today, we've learned other side effects. Many students' parents struggle to make ends meet. Facing disruptions in employment and wages, rent hikes and rising costs, such privations deeply affect every bit of these students' lives.
Respecting student confidentiality, we will carefully address the needs of some 200 students and their families (over 1,200 individuals) and with your help, the "gift shop" at West High School . . . filled with new articles, such as winter wear, clothing, school items, hygiene and household products, and non-perishable food items—things that every teen and their family needs. Our hope for these students is to share a sense of normalcy and empowerment while safely and confidently shopping for their siblings, parents, and themselves.
Please consider a gift to support this effort so we can get more items to West High in time. Our volunteers need your support as early as possible to acquire and organize all the supplies to ensure the gift shop is stocked and ready.
Once more, we will address the loneliness and basic needs of some 200+ homebound elders, some of whom were formerly homeless who, living on fixed incomes in senior residential centers, have been hard hit by rising inflation. Attentive to their needs, residential service coordinators have provided a list of essential items. With your kind help we hope to provide some relief to each senior with new, winter hats, scarves and gloves, dish towels, socks, games, and non-perishable fixings and bring smiles to appreciative elders at four in-city residential centers.
This is a Huge Effort. Your Tax-deductible Contribution is Critical to Its Success
Please mail checks made out to NCJW Utah (including SSTO in the memo) to NCJW Utah Treasurer Diane Warsoff, 1433 S. Ambassador Way, 84108.
2023 SSTO Chairs: Eileen Hallet Stone, Safi (Sheikh) Safiullah, Carla Cantor; Sue Corth, Tipu Islam, Pam Silberman, Laura Polacheck, and NCJW Utah President, Annabel Sheinberg
Make a Difference
We need Volunteers —
You
with your Friends
with your Family

Do a Mitzvah!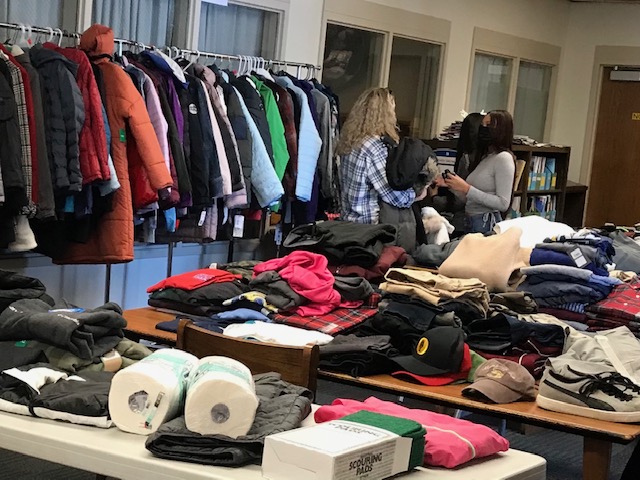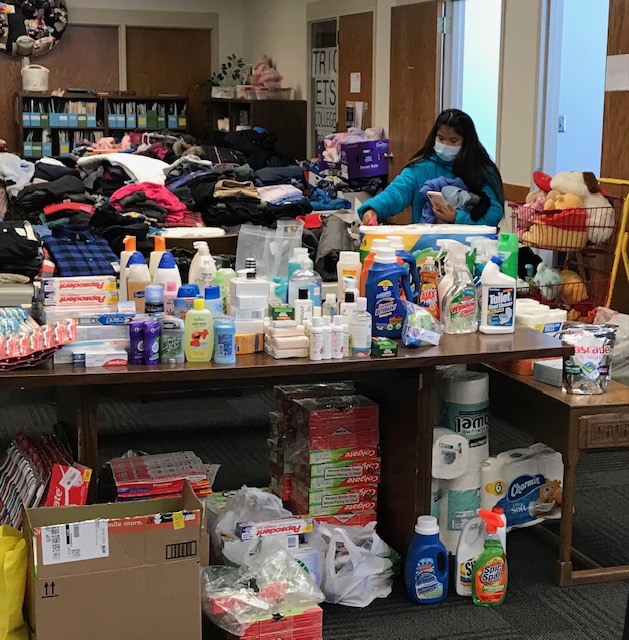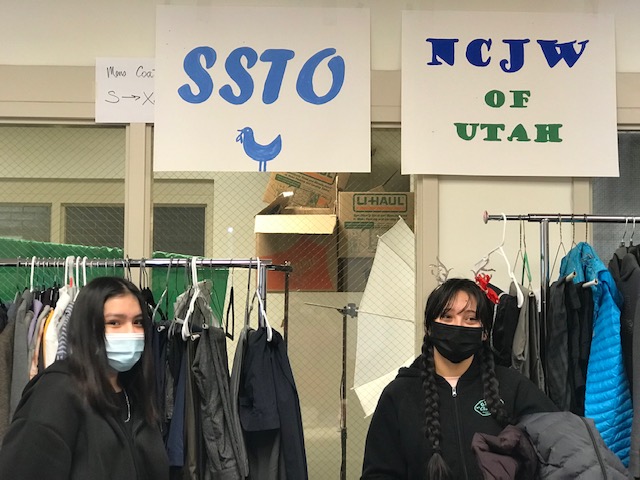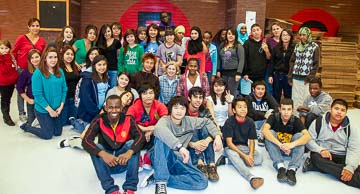 We Make a Difference
West High School students and faculty prep for SSTO
Online cash donation or mail a check made out to NCJW Utah (with SSTO in the memo line) to:
NCJW Utah Treasurer Diane Warsoff
1433 S Ambassador Way, SLC, 84108
Eileen Hallet Stone's active volunteer efforts as a member of the Utah section of The National Council of Jewish Women founded The Shalom Salaam Tikkun-Olam (SSTO) program. The program began as an annual NCJW Utah members project as a way to give the St. Vincent de Paul soup kitchen staff the day off on Christmas.