April 27, 2022 – Kitty Kaplan Building Bridges Event
"Dreams of Hope" Film Screening & Panel Discussion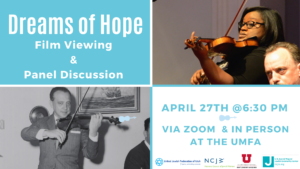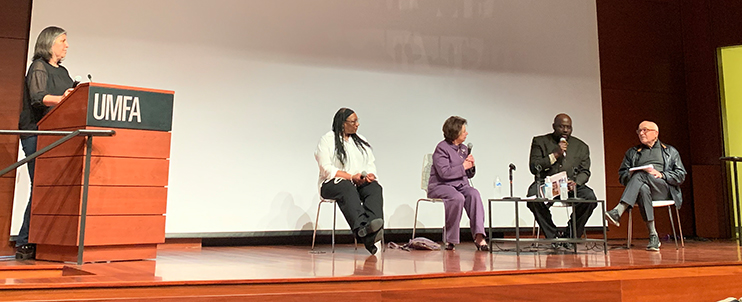 This year's Building Bridges event brought together a wonderful audience on the evening of Yom HaShoah, both in person at the Utah Museum of Fine Arts as well as online via Zoom. It was our first hybrid event ever, and our first indoor event since February 2020. The film we screened, Dreams of Hope, was both inspiring and a great springboard for a fabulous discussion from our four panelists – Dr. Noemi Mattis, Robert Burch, Darlene McDonald, and Dr. Jay Jacobson. Their captivating exchange was recorded and we are so appreciative of the perspectives they shared with our audience.
If you missed the event, click here to watch Dreams of Hope and click here to watch the panel discussion.

As we continue to meaningfully build bridges in our community, we want to highlight and lift up the important work being undertaken by two of our panelists, Robert and Darlene, through the non-profit organizations they founded.

Please take a look to learn more and support them!

Founded by Robert Burch, Sema Hadithi African American Heritage and Culture Foundation strives to "tell the story" of African-ancestored history, heritage, and culture by researching, preserving and disseminating information throughout the community. The phrase "Sema Hadithi" means to "tell the story". By sharing the story of African ancestral families, the foundation will help to tell the whole story of Utah. 

Founded by Darlene McDonald, 1Utah Project aims to counter the proliferation of misinformation and disinformation on social media, increase voter participation, and boost civic engagement for Black, Indigenous, People of Color and all disaffected voters in Utah. It also seeks to showcase the cultures of People of Color in Utah to help make connections and friendships.

A special thank you to our fantastic partners for this year's event — United Jewish Federation of Utah, the University of Utah's Office of Equity, Diversity, and Inclusion, and the I.J. and Jeanne Wagner JCC. We could not have done it without you!